ISERCO is moving…
To be very precise, we have moved 100 meters. It's not much in geographical terms, but it's huge when you look at our new work tool: new offices, new showroom, new workshops…
We are ready to welcome you and develop all your projects!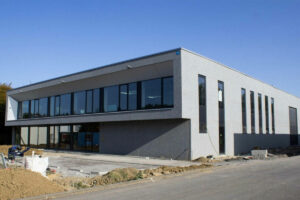 After 22 years spent in the same premises, ISERCO has integrated its new head office. The development of new activities within the company has made the expansion of its premises essential.
The new building was designed by the architect Emilien Cathelain of the Plato agency.
The new head office hosts more spacious and modern offices for the employees. A showroom will be available to showcase ISERCO's flagship products. It will have full-scale machines, such as emptying and big bag filling stations for demonstrations. This building has also been erected to host the SUBLIMOTION-process®, the centerpiece of MP2S (Mineral Pickling Stainless Steel), ISERCO's new subsidiary dedicated to the ecological surface treatment of stainless steels. In addition, a new assembly hall allows the expansion of the ISERCO equipment assembly area with, in particular, an increasingly important part dedicated to the automation of big bag emptying and filling stations.
The grand opening of the head office will take place in June 2021.
The new ISERCO head office is located right next to the previous one, so the address remains unchanged.